Tell us why you love Doors Open Winnipeg
and you could win a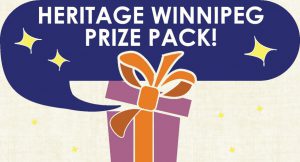 Post a selfie while having a blast at Doors Open Winnipeg 2023 to Facebook, Instagram, or Twitter with the finished caption

"

I love #DoorsOpenWinnipeg because…

"

and don't forget to tag Heritage Winnipeg! Contest opens Saturday, May 27th at 9:00 am and closes Friday, June 2nd at 11:59 pm.
GOOD LUCK!
By entering this contest you are giving Heritage Winnipeg permission to use your photo and caption in Doors Open Winnipeg promotional material.
CONGRATULATIONS TO OUR 2022 WINNER, TALA!
I love #DoorsOpenWinnipeg because it allowed me to visit important historic landmark buildings in the city, experience local events, & take part in helping preserve the city's heritage.
As a newcomer in this city, it's very important for me to learn about the history of the land I walk on. Through this event, my husband and I experienced entering a prison cell, visiting a French university, exploring the facility where every Canadian coin is produced, watching an opera, an acrobatics show, & a musical film, entering the backstage of a theater, visiting old houses & churches, and learning about tidbits of facts & interesting local tales in Winnipeg and the province of Manitoba. It's such a diverse experience which reflects the colorful culture and history of the city. I deeply appreciate the enthusiasm and warmth of everyone involved in this event.
Thanks for the amazing film, Stand!, and Heritage Winnipeg for this wonderful event. We'll keep supporting you in the years to come. ❤️
CONGRATULATIONS TO OUR 2021 WINNER, TRISH!
I love #doorsopenwinnipeg because of all the new places I get to see and learn about!
I love #doorsopenwinnipeg because I am finding out so much history behind these amazing gems we have in Winnipeg and so many interesting stories!
I love #doorsopenwinnipeg because I get into action from history!
I love #doorsopenwinnipeg because of all the amazing history throughout Winnipeg! The amazing tour guides! Last but not least, very interesting facts!
CONGRATULATIONS TO OUR 2020 WINNER, CASSIDY!
I love #DoorsOpenWinnipeg because we get to learn not only facts, but stories about the buildings and land we grew up on. Learning how people used to live and their connections with each other.
As an added bonus I get to scare the 💩 out of @feniuk by making him come into a haunted jail and take a selfie in an old jail cell while his skin is literally about to crawl off his body😂
CONGRATULATIONS TO OUR 2019 WINNER, KAITLIN!
Our first year experiencing this, and now…. I love #DOORSOPENWINNIPEG because … I am obsessed with old buildings and their architecture! I have always wanted to wander around Winnipeg's heritage buildings.. just found out a few months ago there is one day a year you can actually do it! Today we saw Vaughan Street Jail, the Legislative building, Government house, the Law Courts and the newly restored Fortune block.
CONGRATULATIONS TO OUR 2018 WINNER, SCOTT!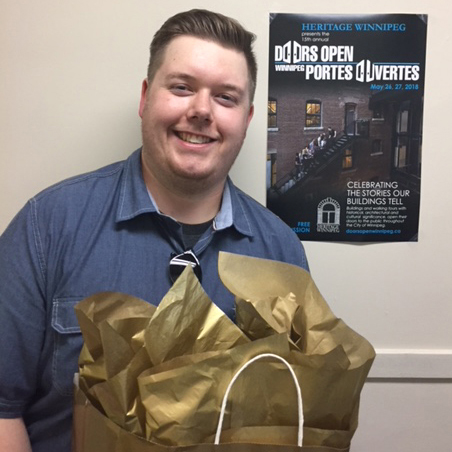 "I love #doorsopenwinnipeg because it allowed me to explore the top row of @theburtwpg! I had to hold on for my life, but it was totally worth it. I love this building and getting the freedom to roam around was so much fun. Thx @HeritageWPG for making my first doorsopen awesome!"